Search Results for ""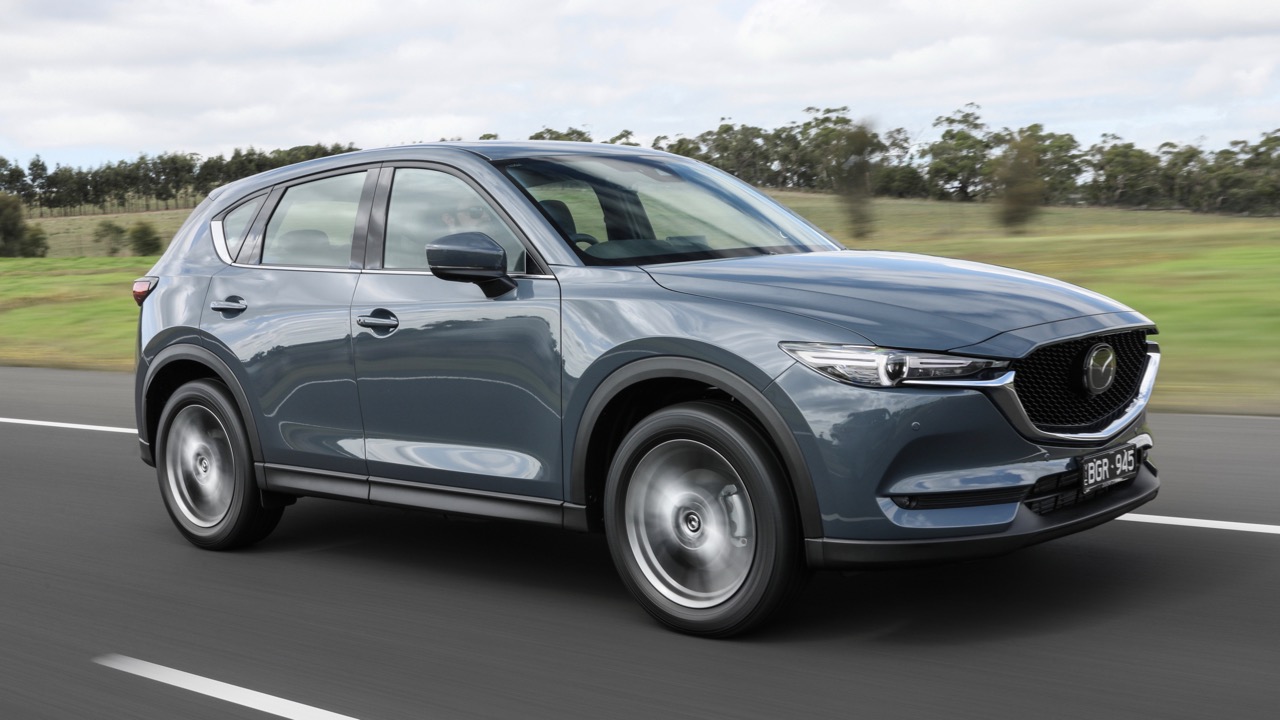 Mazda CX-5 get more refinement, off-road ability for 2020
Mazda's medium-sized CX-5 will receive some updates and tweaks for 2020 with more features across the board including bolstered off-road credentials with a new traction assist system.
Mid-sized SUVs are hotly contested property at the moment, the updated CX-5 will compete against the petrol-powered Honda CR-V, though with hybrid tech numbers are stacked in favour of the updated Subaru Forester e-Boxer and excellent Toyota RAV4.
We've also got to mention the fresh-faced CX-30 – the goldilocks sized SUV – which explains the focus on increased off-road ability for the 2020 CX-5.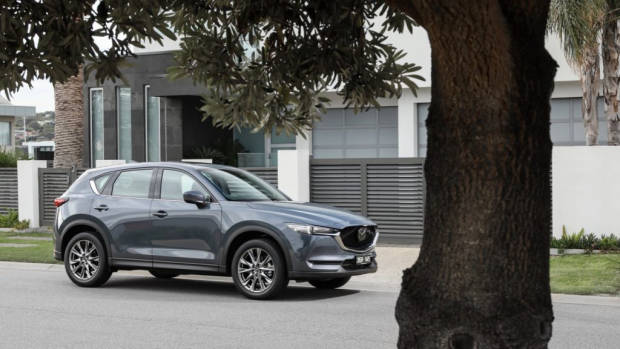 Naturally, there's a price jump for 2020 though it's kept to a minimum – around $200 on any model – and the extra value-added across the range makes it easier to swallow. A full price list appears at the end of this article.
But Mazda promises some key advantages for the 2020 CX-5. First and foremost, the brand is looking to increase the luxury feel with greater NVH suppression with additional sound-deadening in the headlining and around the rest of the vehicle.
For petrol-powered CX-5s Mazda has added a steering dampening system to reduce vibration back through the steering wheel when parked or travelling at low speed.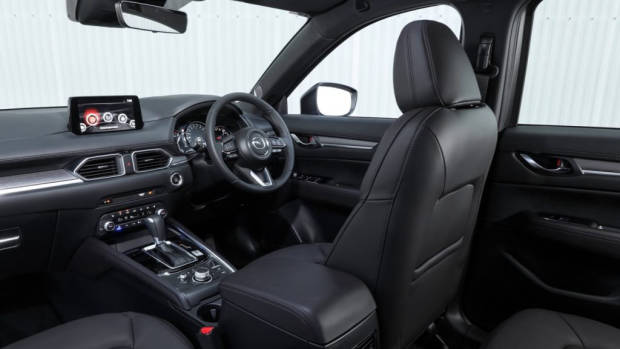 And there's additional noise suppression for the 2.5-litre turbo including an uprated exhaust muffler and more rigid spare-wheel holder. It's quite amazing the level of refinement nitpicking Mazda engineers have gone to for the 2020 update.
A system called Off Road Traction Assist is now standard in all-wheel-drive CX-5 variants for a unique selling point.
The system vectors torque on the rear axle by braking the wheel with less traction having the effect of locking the rear diff, providing improved traction on really tough terrain, though it's unlikely many will take their CX-5s that far off the beaten path.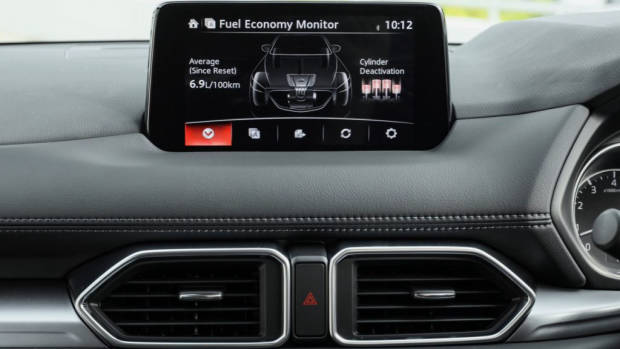 Powertrains remain the same for 2020; the entry-level Maxx and Maxx Sport are available with a 115kW and 200Nm two-litre four-cylinder. It's a good engine in the 3 Hatch, but it makes the CX-5 feel sluggish.
Stepping up the petrol range, Mazda offers a 2.5-litre petrol engine with more generous outputs of 140kW and 252Nm can be optioned on the Maxx and Maxx Sport in front-wheel-drive or all-wheel-drive configurations.
Mazda's excellent 2.2-litre turbocharged oil-burner is still offered on the Maxx Sport grades an up with 140kW and a generous dollop of torque at 450Nm.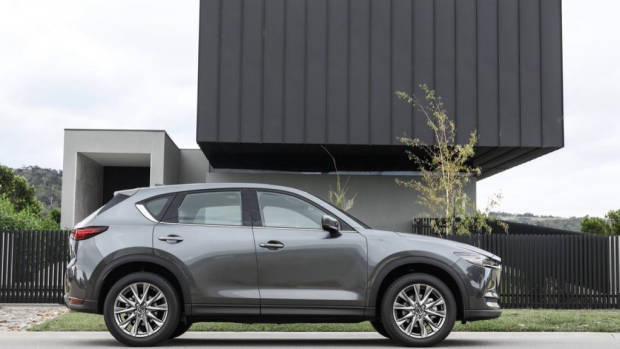 The most expensive and fastest engine offered is a 2.5-litre turbo-four – that the lion's share of NVH improvements have gone into – with 170kW and 420Nm outputs. It's only available on the GT and range-topping Akera, though.
Inside is business as usual for the CX-5 – not a bad thing in our books – but the entry-level Maxx variant gets the larger 8-inch display as standard.
A set of paddle shifters are found attached to the steering wheel in the Maxx Sport grades and above. The exterior sees the addition of the polymetal grey colour (pictures) and updated badge font.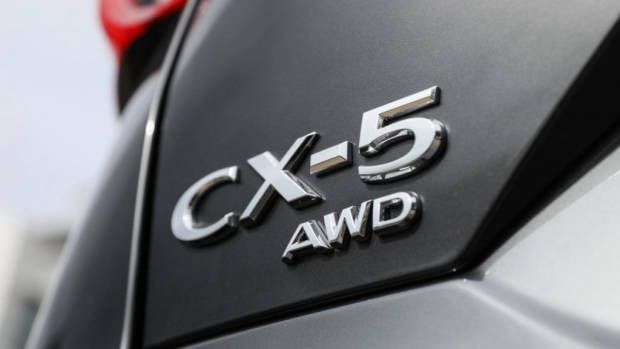 Active safety tech is aplenty for the CX-5 with all variants equipped with AEB and braking pre-sense with nighttime pedestrian detection.
It's a competitive market space to be in, but Mazda aims to have the CX-5 be competitive with its sweet, free-revving engines and updated off-road credentials for 2020.
2020 Mazda CX-5 Pricing
All prices are before on-road costs
Maxx 2.0L FWD Manual $30,980 (up $100)
Maxx 2.0L FWD Auto $32,980 (up $100)
Maxx 2.5L AWD Auto $35,980 (up $100)
Maxx Sport 2.0L FWD Auto $36,290 (up $200)
Maxx Sport 2.5L AWD Auto $39,290 (up $200)
Maxx Sport 2.2D AWD Auto $42,290 (up $200)
Touring 2.5L AWD Auto $40,980 (up $200)
Touring 2.2D AWD Auto $43,980 (up $200)
GT 2.5L AWD Auto $46,090 (up $200)
GT 2.2D AWD Auto $49,090 (up $200)
GT 2.5T AWD Auto $48,590 (up $200)
Akera 2.5L AWD Auto $48,330 (up $200)
Akera 2.2D AWD Auto $51,330 (up $200)
Akera 2.5T AWD Auto $50,830 (up $200)
Read more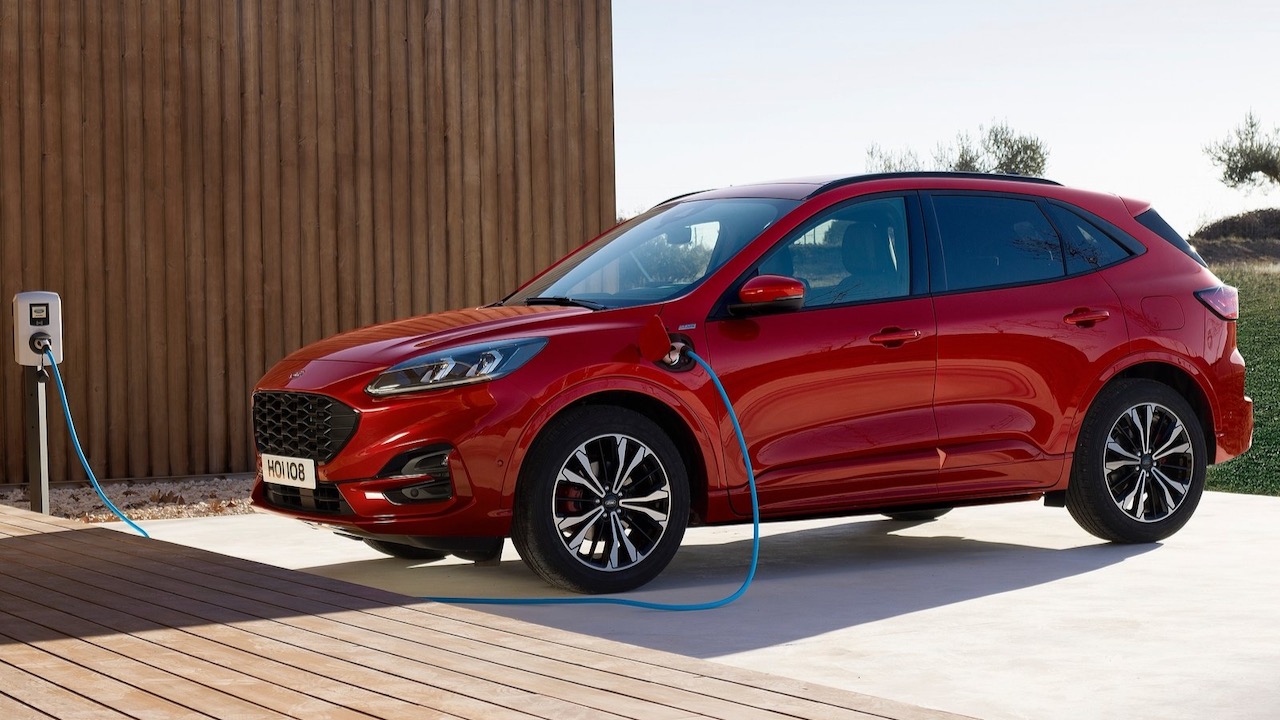 New Ford Escape SUV priced for Australia, includes plug-in hybrid
The fourth-generation Ford Escape will arrive in Australia in the third quarter of 2020 in a three model range kicking off from $35,990. A plug-in hybrid variant with 50km of electric range will be offered from launch in a first for the transatlantic brand in Australia – though the lion's share of variants of the curvier new Escape are fitted with a familiar two-litre turbo petrol engine.
It's a tech-forward offer, with every new Escape sold to Australians fitted with a dedicated internet connection powering a smartphone app with remote locking, remote start and vehicle status monitoring features.
The new Escape, which competes with segment favourites like the Mazda CX-5 (reviewed here) and Volkswagen Tiguan (reviewed here), will seek to build on the relatively modest sales success of the outgoing third-gen Escape as it arrives alongside the funky new Ford Puma small SUV.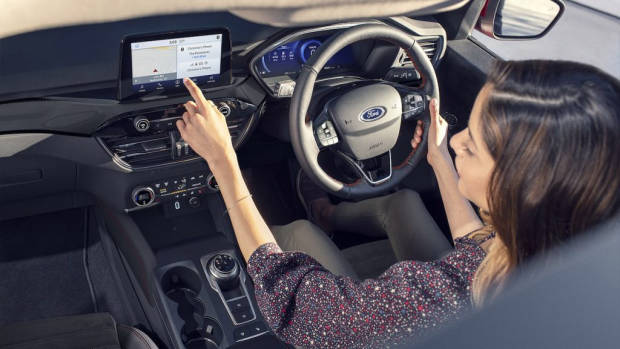 Underpinned by Ford's new C2 platform, which also serves as the basis for the sporty Focus hatchback, the new Escape grows in width (by 44mm) and length (89mm), while the wheelbase is stretched by 20mm: Ford says room is increased for all passengers.
Three variants – a base Escape, mid-tier ST-Line and new premium-spec Vignale – will reach our shores. The new plug-in hybrid iteration – which is also a segment first for mass market medium SUVs in Australia – is the priciest Escape but is actually based upon the middle ST-Line specification.
Priced at $52,940, the Escape ST-Line PHEV will offer an all-electric range of 'over 50 kilometres', according to its maker, while using the electric supply from the 14.4kWh lithium-ion battery and electric motor. Assisting the electrified element is a 2.5-litre naturally aspirated four-cylinder petrol. Total system output for the hybrid is 167kW.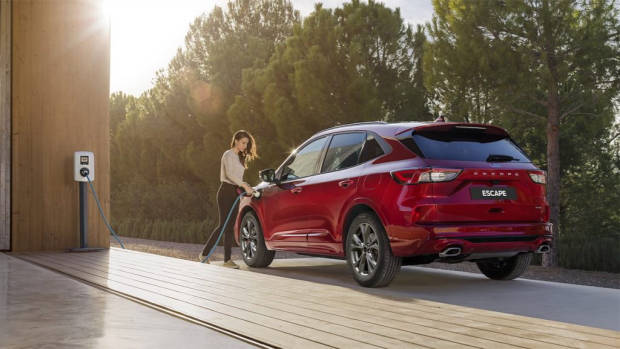 The decision to introduce a proper plug-in hybrid variant for the Escape is a divergence from the strategy at rival Toyota, who are offering their new RAV4 SUV with a conventional series-parallel hybrid that works in concert with the petrol engine.
The other five Escape variants are powered by a familiar 183kW/387Nm 2.0-litre turbocharged 'Ecoboost' petrol engine, which is front-wheel-drive by default, though it is offered as an AWD pairing in the ST-Line and Vignale grades. Fuel consumption is 8.6L/100km in both FWD and all-paw configurations.
All Escape grades include Ford's Sync 3 infotainment system with navigation, DAB digital radio, wired Apple CarPlay, wired Android Auto, Australian-tuned voice recognition, and wireless smartphone charging.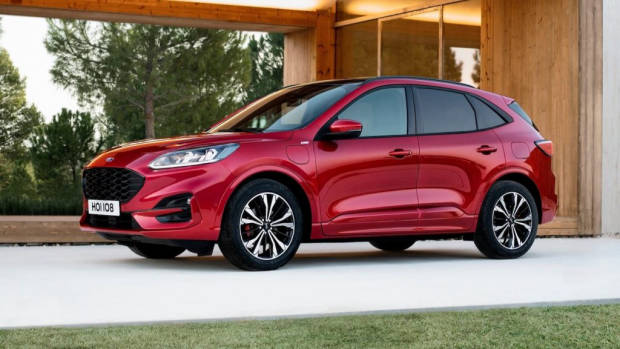 The eponymously-badged base grade is available in a single $35,990 front-wheel-drive grade. As standard, the entry car is fitted with 18-inch wheels, LED headlights and taillights, twin exhausts, and a rear spoiler. On the safety front, there's a decent suite of features offered up as standard: car- and pedestrian-detecting AEB, lane keeping assist, blind spot monitoring, traffic sign recognition, fatigue detection, and tyre pressure monitoring. A further $1,000 buys matrix headlights and a head-up display.
From there, it's a $2,000 jump to the more athletically-styled ST-Line grade ($37,990), which is fitted with different 18-inch wheels, a dark grille, sportier bumpers, a lowered sports suspension, black roof rails, and a dark headliner. Inside, ST-Line buyers gain a flat-bottom steering wheel with red stitching, metal pedals, and a 12.3-inch digital driver display.
The ST-Line is the first new Escape grade to allow the fitment of AWD (for an extra $3,000). Additionally, you'll need to option up the ST-Line pack ($2,800) to gain the base Escape's tech pack, plus an electric tailgate, and heated front seats.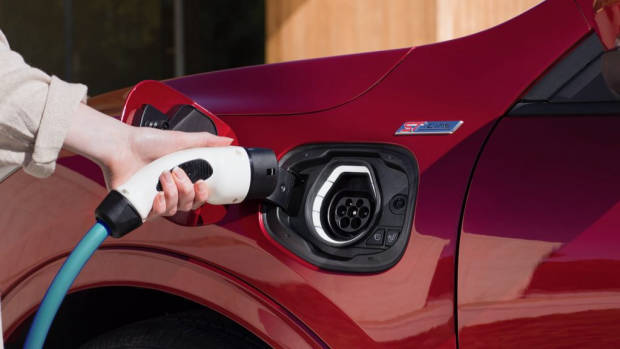 The front-wheel-drive plug-in hybrid is a $14,950 impost, but it builds on normal ST-Line specification by adding partial leather upholstery, a 10-way power driver's seat, and a ten-speaker stereo.
Sitting atop the range is the Escape Vignale, which introduces Australia to Ford Europe's premier-tier variant badge for the first time. The $46,590 Vignale represents an $8,600 upgrade over the equivalent ST-Line – and for the extra spend, Ford piles on additional luxuries like full leather trim, passive entry, powered and heated front seats, heated rear outboard seats, a panoramic sunroof, heads-up display, power tailgate, and automated parking. AWD is a $3,000 upgrade.
The Escape will arrive in dealerships in the Australian spring of 2020.
2020 Ford Escape Australian prices
2020 Escape FWD: $35,990
2020 Escape ST-Line FWD: $37,990
2020 Escape ST-Line AWD: $40,990
2020 Escape Vignale FWD: $46,590
2020 Escape Vignale AWD: $49,590
2020 Escape ST-Line Plug-in Hybrid FWD: $52,490

Read more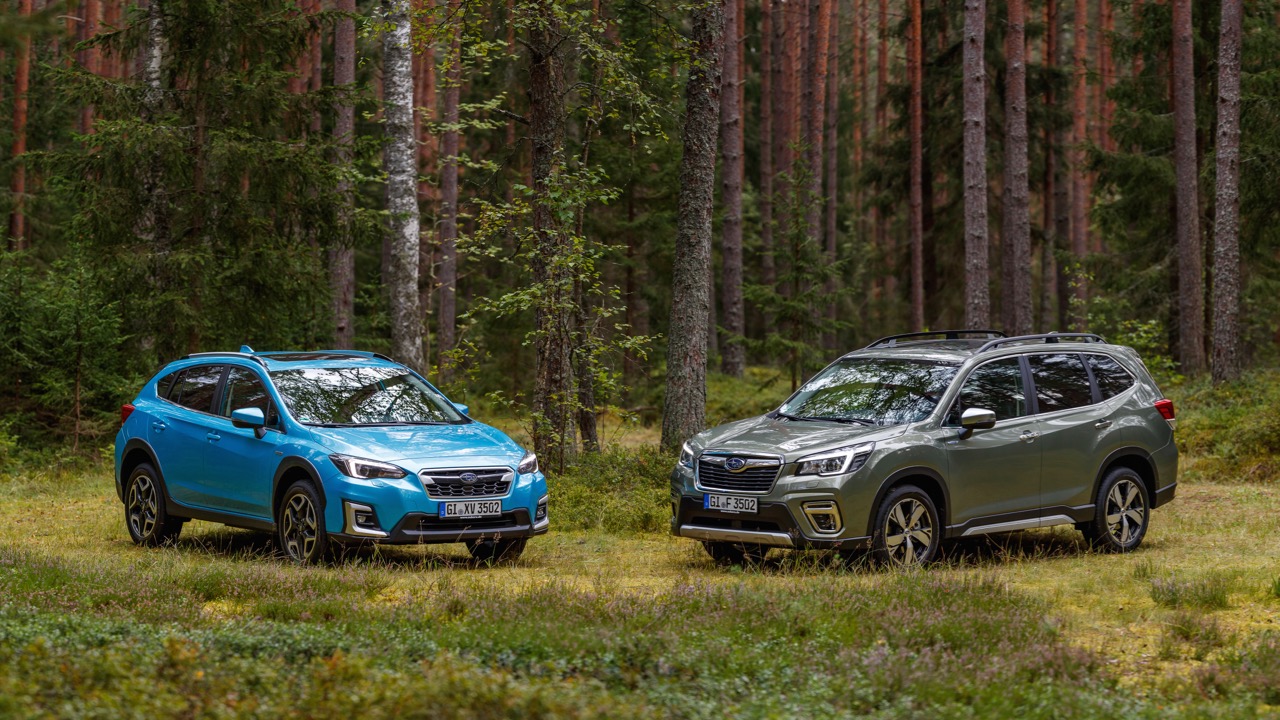 Subaru SUVs get electrified in 2020
With the push towards lower emissions ahead of stringent European regulations and increasing customer demand, Subaru has confirmed its e-Boxer hybrid drivetrain will make its Australian debut in March 2020, with partial electrification of the funky XV and practical Forester at first.

Hybridisation is eminently popular now thanks to shared platforms allowing a greater breadth of drivetrain choice across models. Hybrid variants of the Forester and XV will offer lower emissions and fuel consumption than regular petrol and diesel models, while stealing market share from the popular Toyota RAV 4 and C-HR hybrids.

As we expected, the headline figures relate to fuel economy. Subaru claims the hybrid drivetrain cuts petrol usage by 14% in combined testing, and by an impressive 19% in urban areas, where the e-Boxer system can travel in EV mode.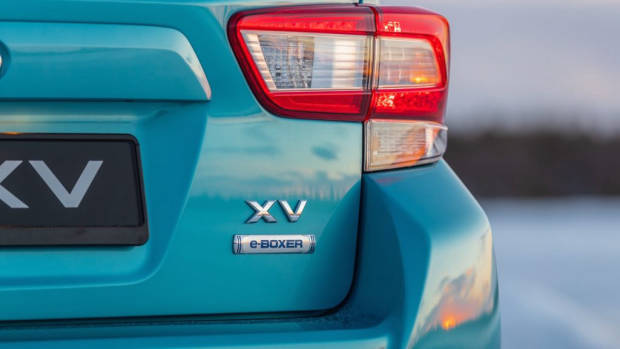 Electric power is humble, with the single motor only producing 12.3kW and 66Nm, that's enough to fill torque and improve throttle response but this certainly isn't a performance hybrid system.

The electric motor is bolstered by Subaru's standard-issue two-litre four-cylinder boxer engine, it's a naturally aspirated unit with respectable outputs of 110kW and 196Nm.

Depending on charge levels EV mode will be functional from standstill to 40km/h thanks to the lithium-ion battery under the boot floor.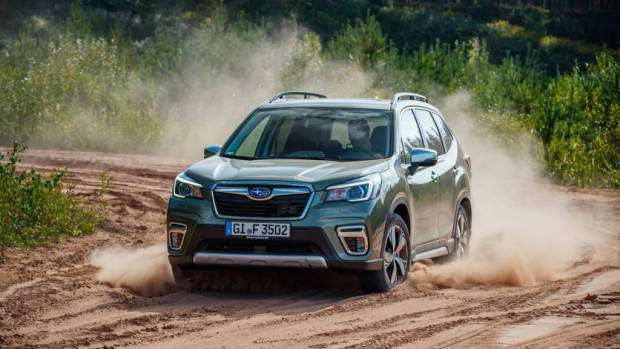 There are three driving configurations for the hybrid; naturally a full EV mode makes an appearance, but above 40km/h and greater throttle inputs the electric motor works to enhance the petrol engine, while the extra battery capacity means the boxer can be switched off during high-speed coasting without losing accessory power.

Naturally, there is regenerative braking too, which works at all speeds to keep battery charge high.

Like other Subaru drivetrains, power is transferred via a CVT transmission, we've found it to work adequately most of the time if feeling a little uncivilised under hard acceleration.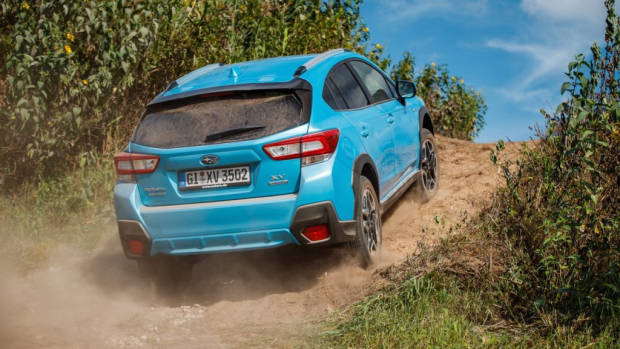 Subaru boasts that the hybrid power increases off-road capability for Forester and XV models too, with regenerative braking offering hill-descent control and infinitely variable power and torque from the electric motor assisting in slippery conditions.

There will only be one hybrid XV available starting at $35,580 (driveaway pricing not yet available) with all-wheel-drive, leather-wrapped wheel and gear-lever, auto headlights, adaptive cruise control, lane keep assist, blind-spot monitoring, high beam assist and rear cross-traffic alert
The hybrid will sit high in the XV range but is still less expensive than the range-topping $36,530 ($40,243 driveaway) 2.0i S model which packs only a small amount more tech.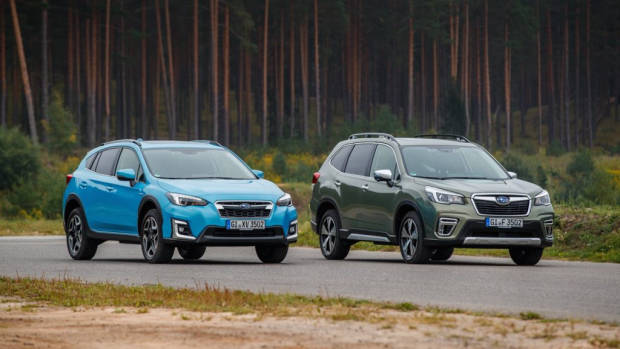 There will be two hybrid Forester variants available, the $39,990 (driveaway pricing not yet available) Hybrid L is specified with the same safety tech as the XV, with the $45,990 (driveaway pricing not yet available) Hybrid S adding larger 18-inch alloy wheels and extra chrome addenda.

Although it would seem Subaru is a little behind competitors with their hybrid release, the brand justifies its tardiness saying they wanted to engineer in their "customer must-haves" which include "fun, safety, reliability and great engineering".

All privately purchased hybrid models offer a five-year unlimited-kilometre warranty, with an eight-year or 160,000km warranty on the lithium-ion battery.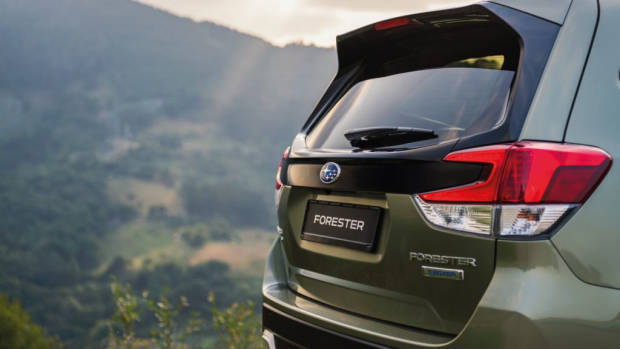 Subaru will be bringing the hybrid XV and Forester to Australia in march 2020 and hope to find out how the fresh meat compares with Toyota's excellent fleet of hybrids.

Read more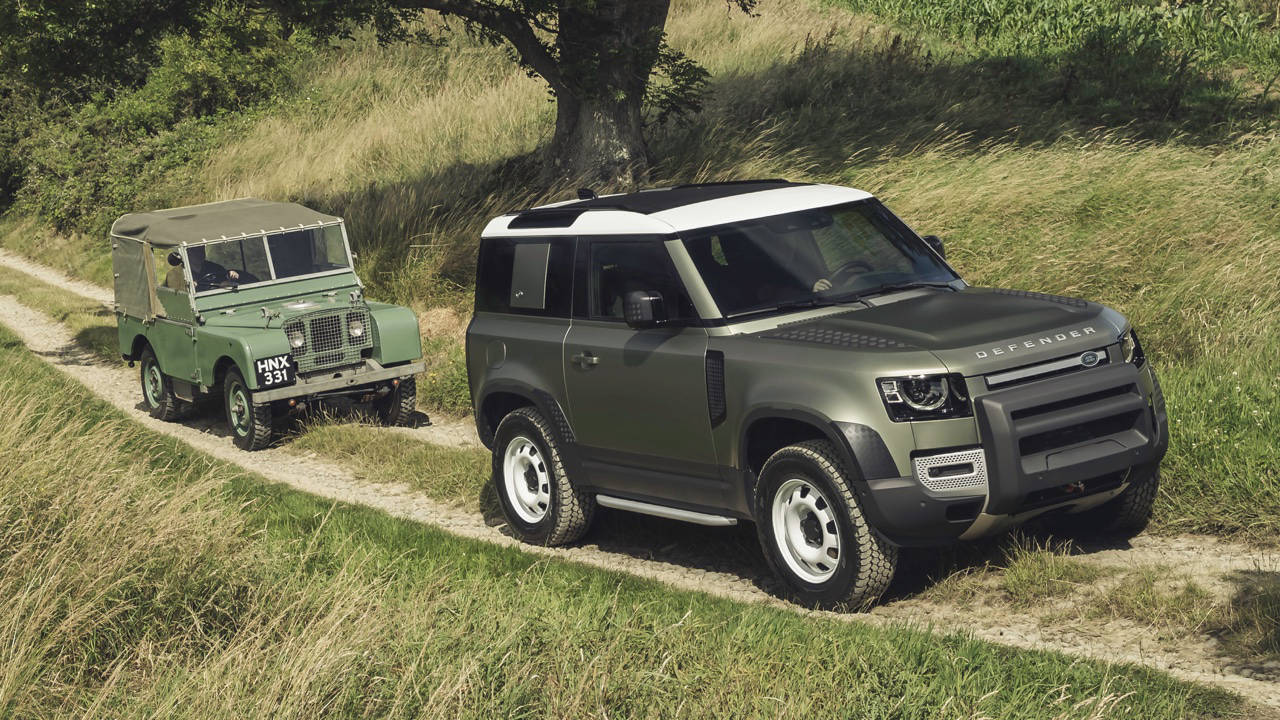 First all-new Land Rover Defender in 71 years unveiled
Land Rover overnight ended years of speculation about the future of its rough-and-ready Defender, revealing a new generation of the four-by-four at the 2019 Frankfurt Auto Show.
The iconic first-generation Defender was built until 2016 from a chassis that originated in the original Land Rover of 1948. Though demand for the classic Defender persisted, mounting emissions challenges forced the cancellation of the product.
Land Rover has been planning a successor vehicle for some time, having presented the DC100 concept this time eight years ago, at the 2011 Frankfurt show.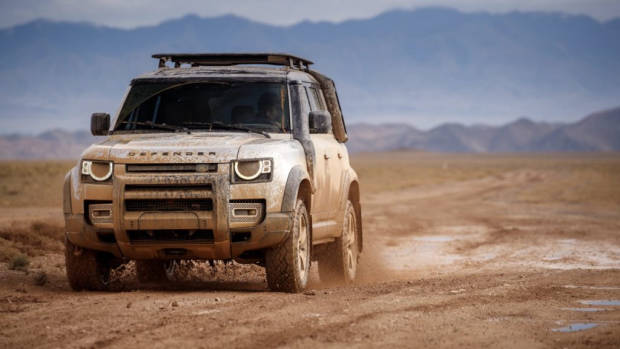 The British brand has drip-fed details of the production Defender this year but the vehicle has now been revealed in production form. The 2020 Land Rover Defender will be available only as a wagon, eschewing the open-top option of decades gone by, in both short three-door and long five-door forms. The Defender will sit underneath the Land Rover Discovery in the range.
A bespoke platform codenamed D7X underpins the Defender which also utilises air suspension for the first time to lift off-roading capability to what Land Rover says will be the most impressive of any production vehicle.
While the lines make reference to several elements from the classic Discovery – the tail lights, head lights, fender shaping and alpine rear windows all recall the old car – the approach under the skin is thoroughly modern.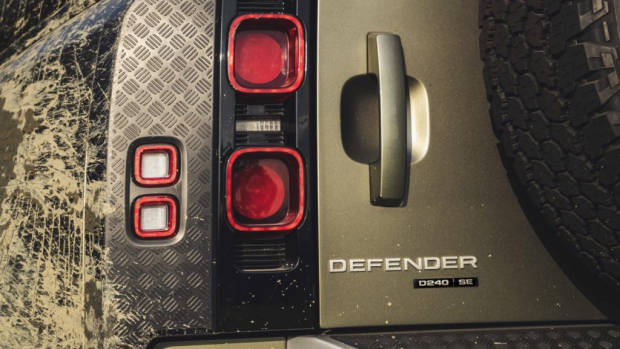 A plug-in hybrid powertrain will be available in 2020 and a range of off-reading tech will be present, with on-board systems to include Land Rover's configurable terrain response selectors.
At launch, the engine lineup will consist of a mild hybrid straight-six petrol engine badged P400, producing 297kW of power, and two diesel four-cylinders: the 147kW D200, and the 177kW, twin-turbo D240. The latter Diesel engines are shared with the Range Rover Evoque, and many other JLR products.
The two body styles recall the badging of the previous Defender iteration, with the three-door named the Defender 90 and the five-door the Defender 110. Land Rover Australia have indicated that pricing on the five-door variant, likely to take the lion's share of sales, will commence around $70,000 AUD. Expect the Defender to pack plenty of optional extras, however.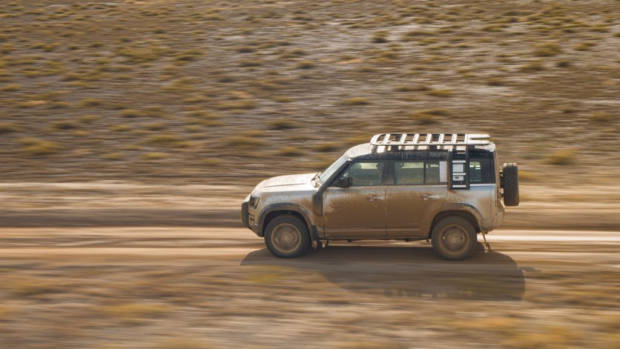 The short-wheelbase Defender 90 will be second to market, in 2020, while the Defender 110 will arrive at the end of 2019.
Four distinct accessory packs – explorer, adventure, country, and urban – will allow buyers to apply a slate of aesthetic and functional options to the new Defender out of the box. The urban specification will pack the biggest wheels – 20 inches in size – while explorer will be the most off-road focussed.
A commercial version of the new Defender 90, which replaces the rear glass with metal cladding, has also been revealed but it is not currently known whether this will make it to Australia.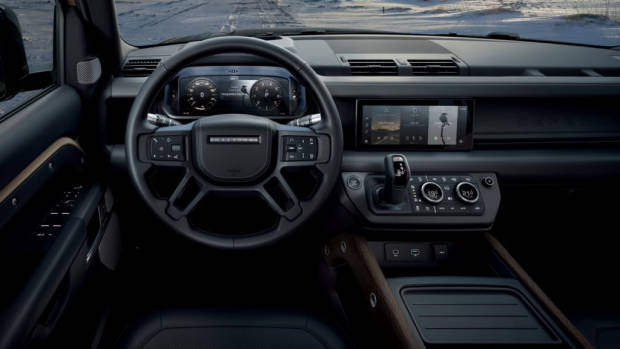 Inside, the Defender has only slightly less complicated infotainment than its Land Rover and Range Rover siblings. A centrally mounted touchscreen named Divi Pro will likely feature across all variants. Digital gauges will be available. A centre jump seat will be optionally available, while the interior surfaces are designed to be 'wipe-clean'.
We expect Land Rover Australia to announce further details on the 2020 Defender's arrival to the local market in the coming months.
Read more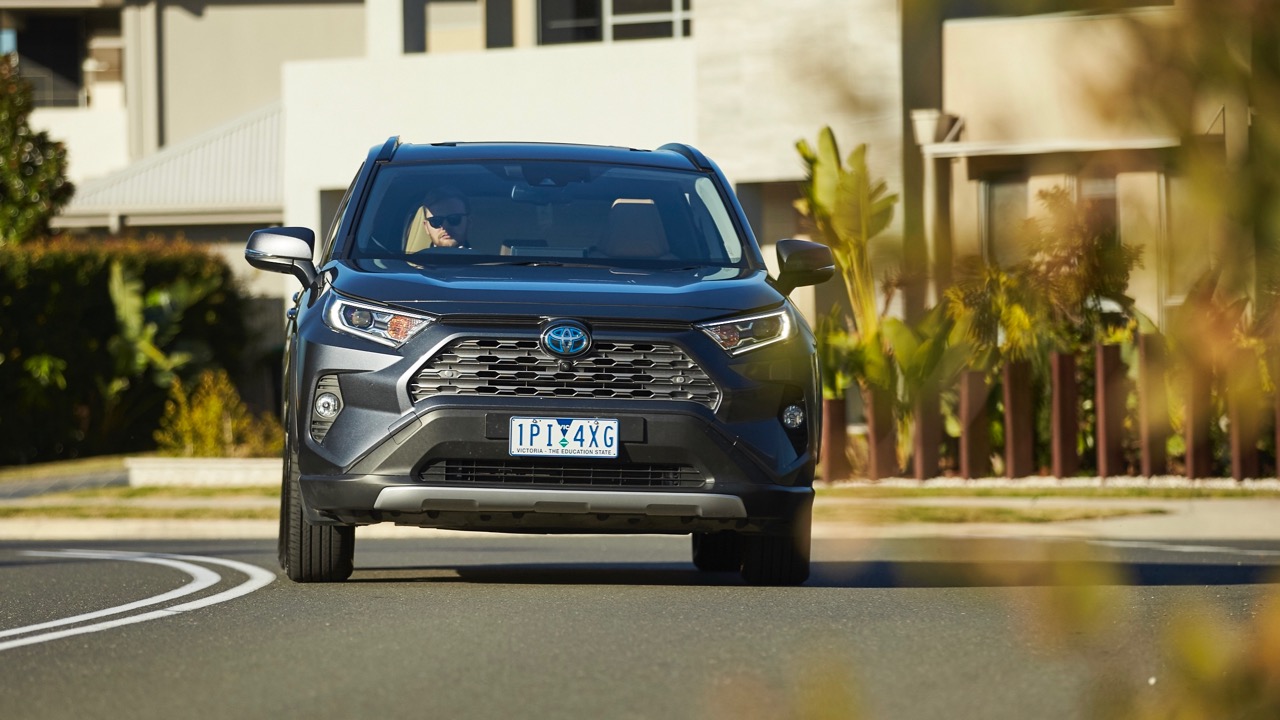 Long Term Log: Toyota RAV4 Hybrid, Part 2
Even for those that aren't on the SUV bandwagon, it's hard to dispute the utility of crossovers for driving around the 'burbs. They're easy to buckle children into, they can jump kerbs if your parking angles are a little off and their cushy seats and suspension make the school run that much more relaxing. Only problem? SUVs are large and heavy, so they suck fuel, be it petrol or diesel.
The 2019 Toyota RAV4 Hybrid is the first mainstream SUV in Australia that can really bust that myth. When I say mainstream, I mean a car that most people can afford – there have been luxury hybrid SUVs, like the six-figure Lexus RX hybrid, and even the more-expensive-again electric Tesla Model X – but you can walk into a Toyota RAV4 for less than forty grand.
Read the first instalment of our RAV4 long-term review here.
Urban driving in the Toyota RAV4 hybrid
We've been driving the range-topping RAV4 Hybrid Cruiser for a couple of months now, and we spend about three-fifths of our time driving around Sydney's suburbs. There's my commute on the lower north shore, regular runs to the northern beaches and all manner of work commitments. Point being, our Graphite-over-Nutmeg RAV4 spends a lot of time in bumper to bumper traffic.
But bumper to bumper is where hybrids do their best work. Content to run in electric-only mode at low speeds, you crawl along with zero tailpipe emissions and zero petrol being channeled through the Toyota's innards – which meant a month where all our driving was urban resulted in E10-petrol consumption of just 5.4L/100km. Holy cow.
By contrast, petrol SUVs that swung by for comparison from Volkswagen and Mazda used more than double that figure.
If you want an easy way to drastically cut your fuel bills and reduce your environmental footprint – without having to do anything drastic – swapping into a RAV4 Hybrid is a great start.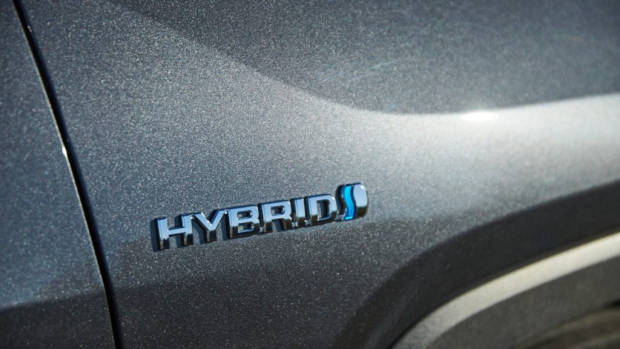 The stellar fuel consumption is one thing but the instant torque from the three electric motors when darting around the city is a bonus, too. We're not saying it's Tesla-like in its acceleration – it certainly isn't – but the little squirt from the battery essentially operates like a low-blow turbo.
There used to be a horrible sound and vibration when older Toyota hybrids switched from electric power to the petrol engine, but substantial NVH work means that this transition is now much smoother and vibe-free. If you have music on, you won't actually know when you're running on volts or on gasoline, except for the 'EV' symbol in your instrument cluster.
The hybrid battery and motors do add some weight to the RAV4 but that doesn't fundamentally affect this SUV's dynamics, which are pleasant and light. Direct steering combines with a soft but controlled ride, making the Toyota a surprisingly fluent drive but also a very comfortable one.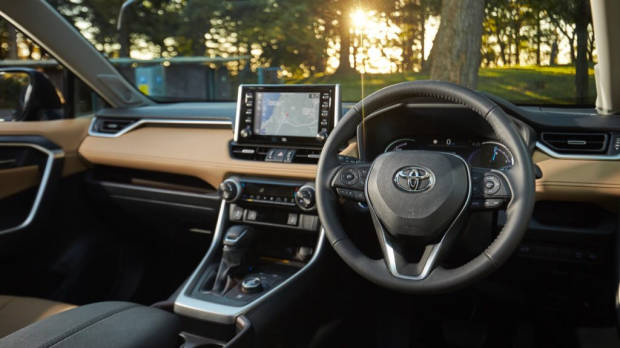 Toyota haven't tried to make the RAV4 sporty; they have aimed for comfort, and all the better for it. Having said that, it's not floppy at all; it's a great balance.
The spacious interior includes a set of good, heated front seats, a good JBL stereo (on our Cruiser) and heaps of rear legroom and headroom. This is only a five-seater – a new Kluger seven-seater with a hybrid option will come along at the start of 2020.
Seamless is how you'd describe the experience of driving the 2019 RAV4 in the city. With the car's computers making all the decisions for you in terms of fuel sources, all you have to do is buy it to start reducing your environmental impact and fuel bills at the same time. What more could you want at this point in time?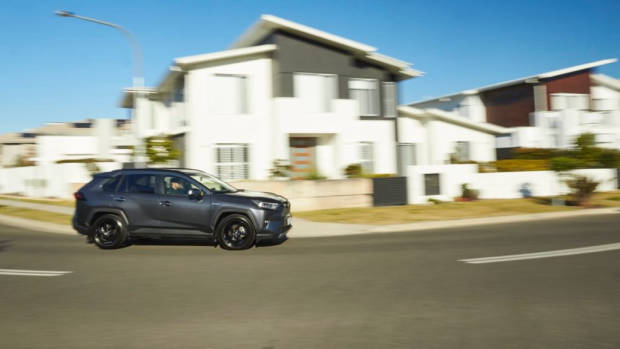 Read more