Search Results for ""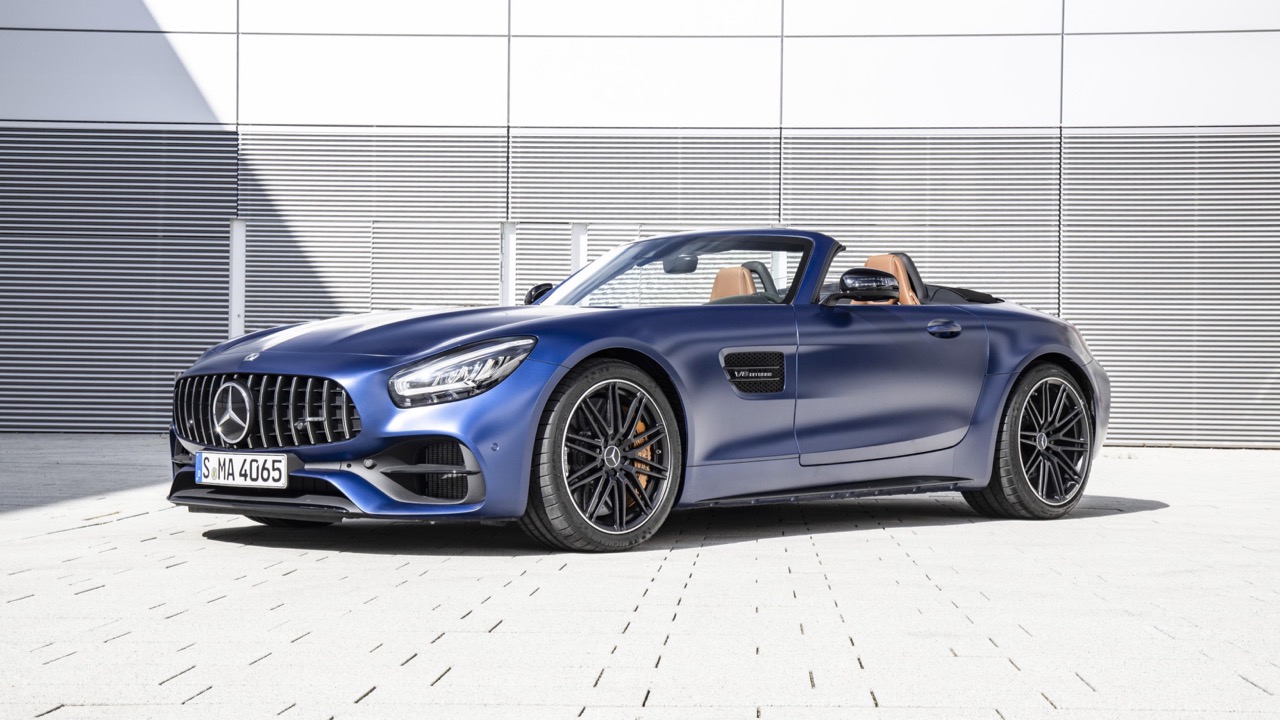 Mercedes-Benz Australia adopts 5 year warranty, BMW sticks to 3
In an unexpected move overnight, Mercedes-Benz Australia has confirmed that it will adopt a new five year warranty across its entire range, from the A-Class to the X-Class – becoming the first traditional luxury automaker in the Australian market to do so.
The decision makes Mercedes-Benz the first premium brand to match the commitment made by mainstream automotive brands who have been offering five years – or more – of coverage for some time. Notably, Tesla offer an eight year warranty on its electric vehicles.
It is a significant shift for the Stuttgart manufacturer, which is dropping its previous Australian warranty arrangements of three years / 100,000km in a shift to a five year, unlimited kilometre programme.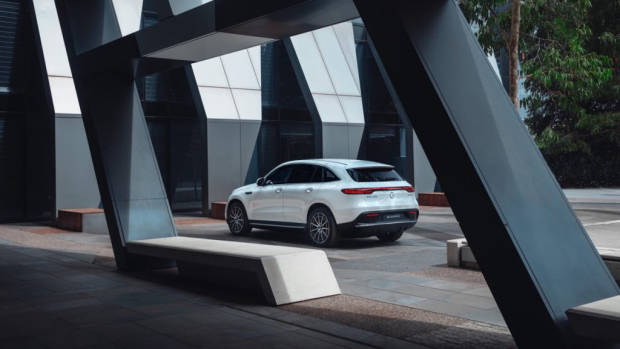 Two limits apply: where Mercedes-Benz vehicles are used in commercial applications – the company cites taxi and rideshare use – the warranty will be limited to five years / 200,000km. And the brand's commercial vehicles – which it defines as the Vito, Valente and Sprinter – will be warranted for five years / 250,000km.
Several automotive outlets, including Chasing Cars, have been campaigning for luxury manufacturers in Australia to shift to five years of warranty coverage.
In the mainstream segment, the process resembled dominos falling, with Japanese and European manufacturers following trailblazers Kia and Hyundai in offering more generous warranties.
So – should we expect to see Mercedes-Benz's major rivals – BMW, Audi, Lexus, and Jaguar Land Rover – shift to five years of coverage? We sought responses from several of these brands.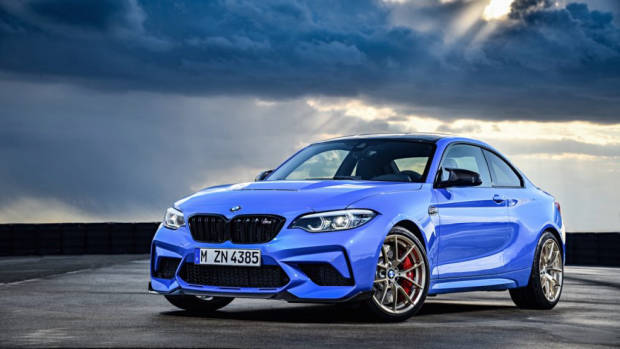 BMW Australia's general manager of corporate communications Leanne Blanckenberg told Chasing Cars that "BMW Group Australia has no plans to change its warranty offering at this point."
Lexus in Australia offers a four year warranty, which has today been usurped as the best warranty in the luxury space.
A spokesperson for Lexus said "there is no planned change to warranty," but pointed to the marque's recent wins in Roy Morgan's 2019 survey of automotive customer satisfaction and their "best of the best" victory across all industries.
Lexus also plan "an increased expansion of the Lexus Encore owner benefit program" which will be announced in late March.
Our money would be on the luxury warranty landscape shifting over the next 12-24 months, much as it did once several large mainstream manufacturers jumped aboard the five year warranty bandwagon in past years.
For now, though, we credit Mercedes-Benz Australia for being the prime movers in this part of the market.
Read more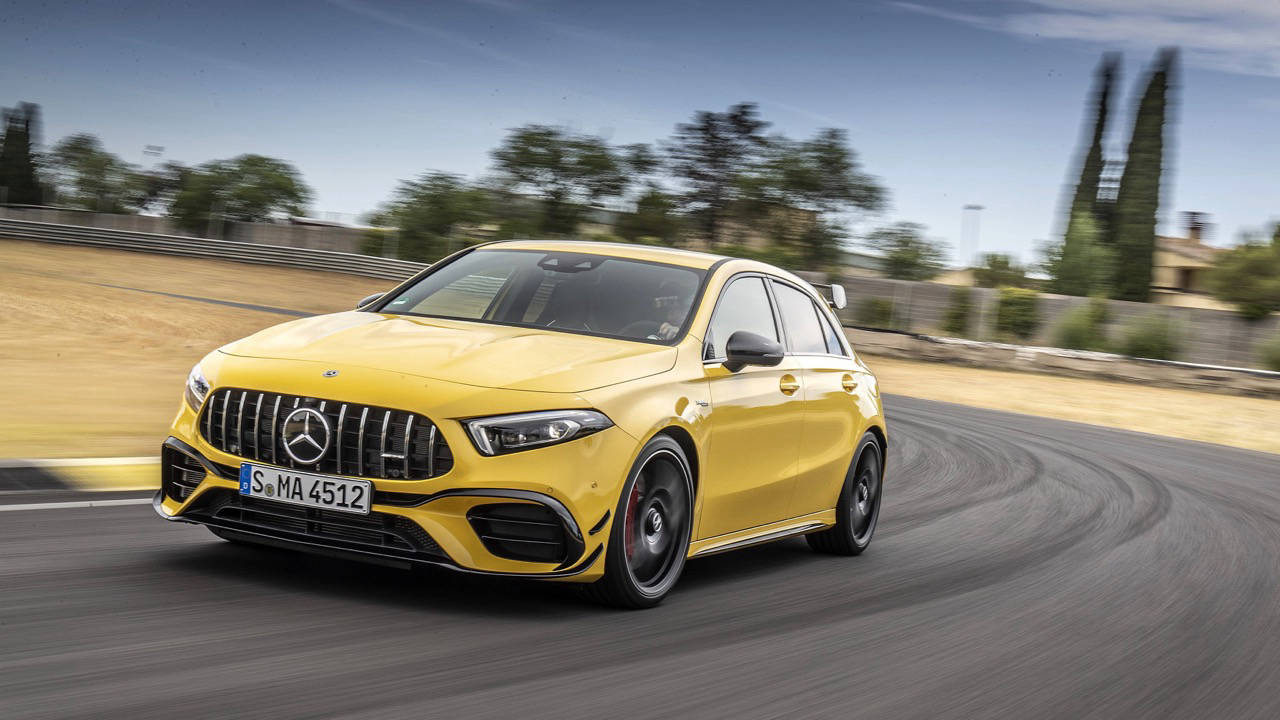 Mercedes-AMG A 45 S: Hyper hatch detailed and priced for Aus
Mercedes-AMG has detailed Australian pricing and specification for their latest hyper-hatch, the AMG A 45 S 4Matic+ and, for those who prefer more flowing lines, the AMG CLA 45 S.
The pair share an all-new two-litre turbocharged engine with Group B troubling outputs of 310kW and 500Nm. Pricing starts at $93,600 (driveaway pricing TBA) for the A 45, the CLA commands a significant premium at $111,200 (driveaway pricing TBA). Both are available now.
We can't wait to put the pair of Mercedes-AMG hyper hatches against their venerable Audi RS3 and butch BMW M2 Competition. It will be interesting to see if they can provide enough excitement to rival purer sports cars like the Porsche 718.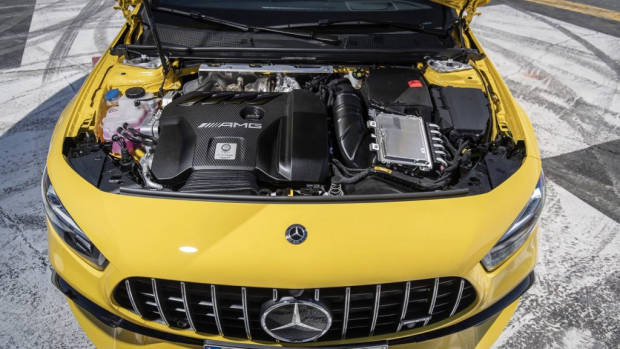 Where the current AMG A 35 and CLA 35 are performance models based on the cooking A250 models – using a modified engine and similar AWD system – the 45 models promise to be more serious bits of kit.
Starting with the aforementioned all-new engine, the A 45 builds on performance credentials with an eight-speed dual-clutch gearbox and more advanced 4Matic+ system.
That more advanced all-wheel drive boasts a 'drift mode' (see what that entails below). When selected the 4Matic system sends power rearwards to initiate slides, it looks like serious fun but, of course, only on the track.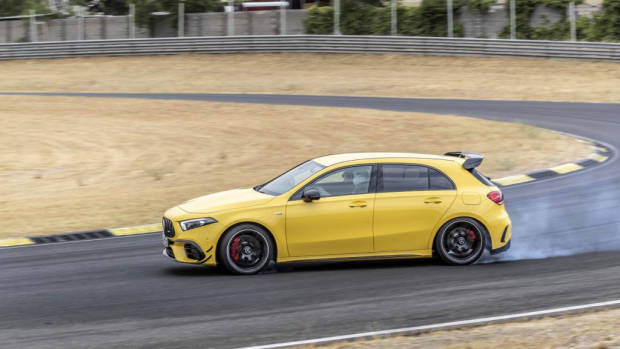 It's not just the 4Matic system though, it's paired with a trick clutch-type rear LSD – Mercedes call this AMG Torque Control – allowing total corner-exit destruction.
Additional aerodynamic aids are found on the A 45 and CLA 45 pair. A brace on canards can be found on each side of the front bumper that has also been opened up further for increased cooling.
Moving around to the rear you can't miss that rude spoiler affixed atop the A 45's boot lid. Sadly, the CLA 45 is more restrained with a mere lip-spoiler, we'd prefer a proper Subaru STI-esque wing.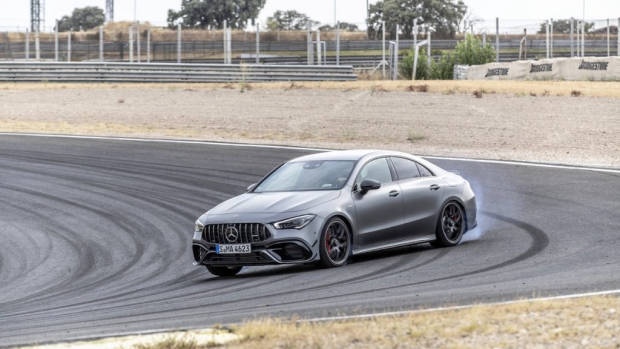 Regardless of wing size, the AMG A 45 and CLA 45 are a properly butch looking pair of compact vehicles.
Together the performance upgrades see the A 45 chop 0.8 of a second from the A 35s standard sprint, with AMG claiming the hyper-hatch will dispatch 100 in just 3.9 seconds.
For context that 0-100 sprint time is identical to the far more exotic, V8 powered Mercedes-Benz SLS AMG supercar. Madness.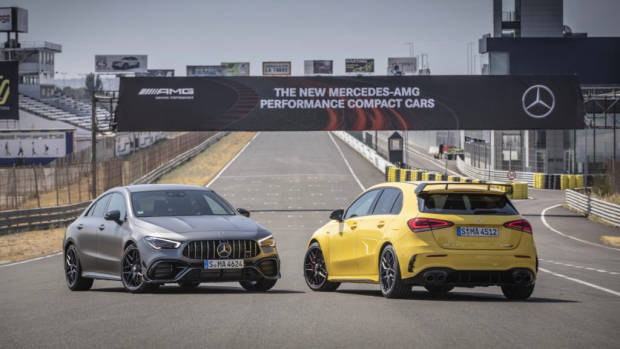 Australian AMG A 45 and CLA 45 models will be fitted with infinitely adjustable adaptive dampers as standard. Drivers will be able to choose between comfort, sport and race modes to prime the system.
Following on from adaptive dampers, Australian vehicles will have a high level of specification. 19-inch alloy wheels, AMG steering wheel with dead-ahead marker, keyless go, switchable ambient lighting, heated electrically adjustable sports seats, leather upholstery and a Burmester premium stereo.
An AMG drivers package can be optioned that increases top speed to 270km/h (good luck doing that in Aus), different alloy wheels and black exterior trims.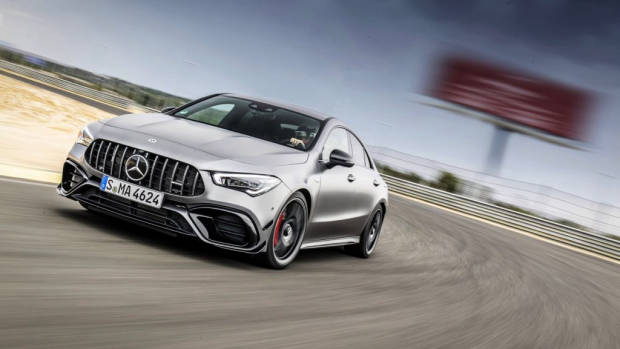 In addition to the A 45, all CLA 45 models feature different front design elements and a set of 9-inch wide wheels – the A 45 makes do with 8.5-inch – going some way to justify the price premium.
Naturally, safety equipment is high with adaptive cruise, high-speed AEB, a 360º camera, front and rear cross-traffic alert and active high-beams.
Mercedes-AMG's pair of A 45 and CLA 45 are shaping up to be seriously bonkers machines that make manic performance more accessible than ever. Both are available to order now.
Read more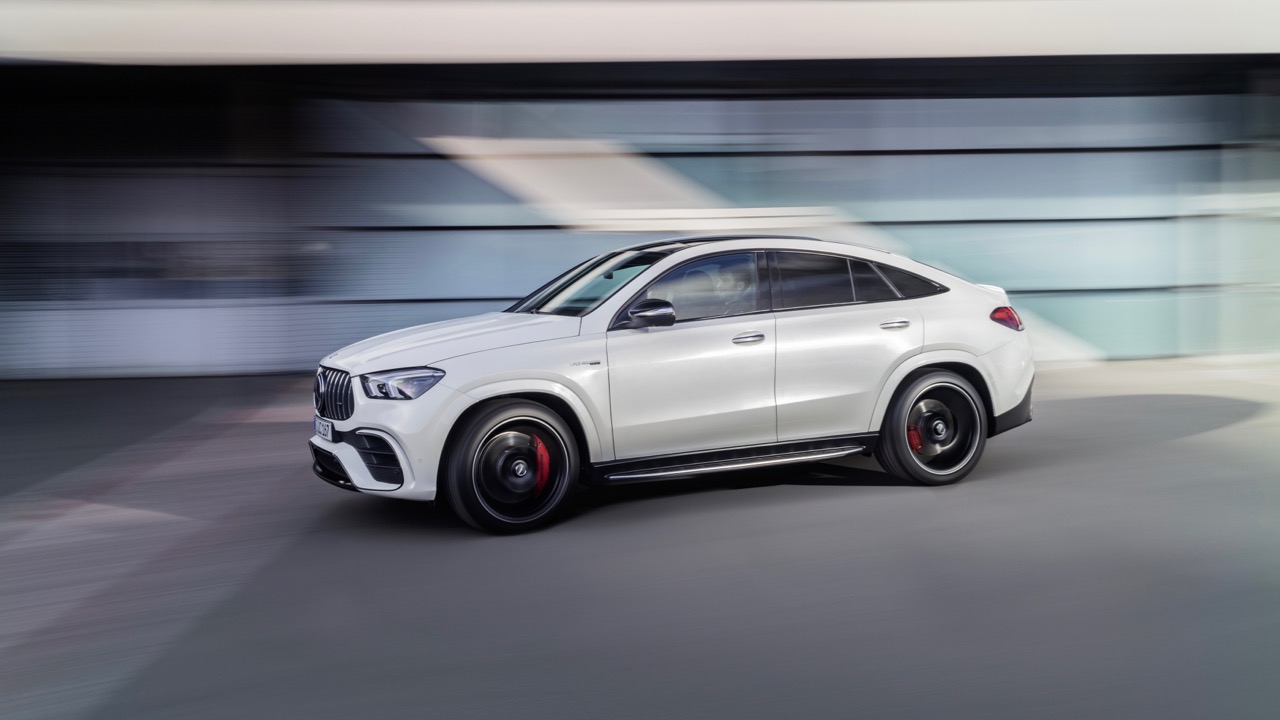 Mercedes-AMG adds GLE 63 Coupe to Aussie line-up in late 2020
Mercedes-Benz revealed the all-new and rather fetching GLE late in 2018 but now the nasty, range-topping GLE 63 4Matic Coupe has arrived to steal headlines again.
In an era of downsizing and stringent emissions regularions it seems strange there's still a high-powered off-road niche available for Mercedes-AMG to occupy along with BMW's X6 M Competition and Audi's RSQ8.
The all-new GLE 63 Coupe will arrive late in 2020 with pricing likely to start somewhere north of $200,000.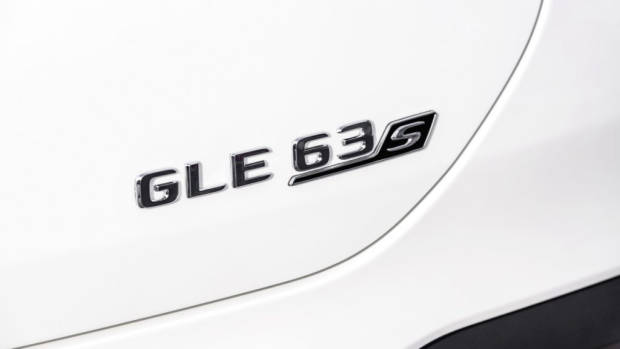 Upon the arrival of the bonkers coupe-SUV both a base GLE 63 4Matic+ coupe with outputs of 420kW and 750Nm from its twin-turbo V8 and more focussed GLE 63 S variant will be available.
For the S variant, expect some insane outputs. 450kW and 850Nm from that same four-litre twin-turbo bent-eight, to be exact.
Though it might be nice to have some extra wallop on tap, just in case you need to overtake. Mercedes-AMG has this covered; by using a 48 Volt mild-hybrid system – not unlike KERS in Formula 1 cars – those outputs are bumped by 16kW and 250Nm for short periods.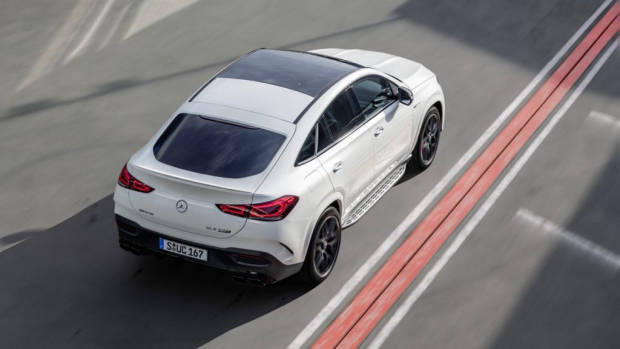 Some might be thinking "that's excessive", but when you've got over two tons of german metal to shift that kind of firepower is necessary to achieve competitive 0-100km/h times of 4.0 seconds and 3.8 seconds for the GLE 63 S.
That prodigious power is sent through a nine-speed torque-converter automatic to all-four wheels where the 4Matic system takes charge of distributing it.
The exterior design suitably differentiates the performance model from its cooking GLE counterparts, losing the black cladding and adding a set of 22-inch alloy wheels underscores the imposing stance.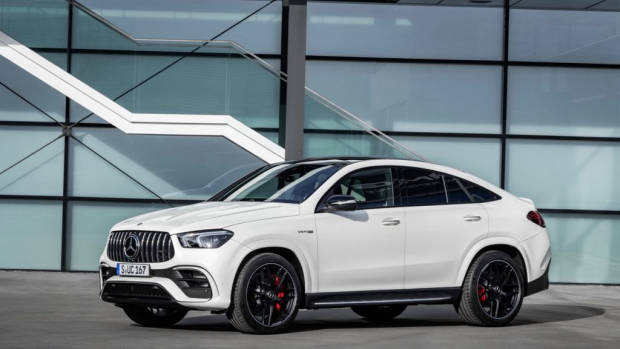 Around the rear, the large diffuser is difficult to miss as is that distinctive sloping back-end. The GLE 63 Coupe won't be to everyone's tastes – we're not the biggest fans of 'coupe' style SUVs – but it's a trend that's here to stay.
Move inside and the trademark AMG steering wheel makes an appearance with its bewildering array of controls. Naturally, drivers will be able to adjust between Comfort, Race and – because it's an SUV – Sand modes easily, with a customisable individual setting, too.
Red stitching and carbon-fibre make plenty of appearances, with Mercedes-Benz's MBUX system appearing with dual digital displays to take care of vehicle settings and audio as well as the fully-customisable instrument display.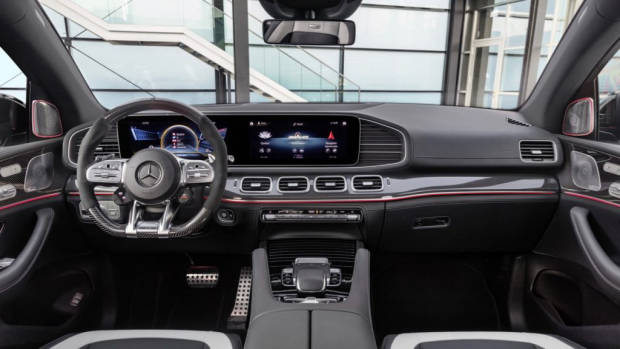 Because the GLE 63 Coupe is an AMG model the MBUX system has additional lap-time with sector info, G-force and engine data that can be viewed by drivers.
Dampers will be fully adjustable with air-springs employed to allow greater ride-height control, for example selecting Sport and Race modes will lower the GLE 63 Coupe slightly to achieve the closer-to-optimal centre of gravity.
Due in Australia by late 2020, we will have detailed specification and pricing information for the GLE 63 and GLE 63 S Coupe soon.
Read more